New iPad 7th Generation Setup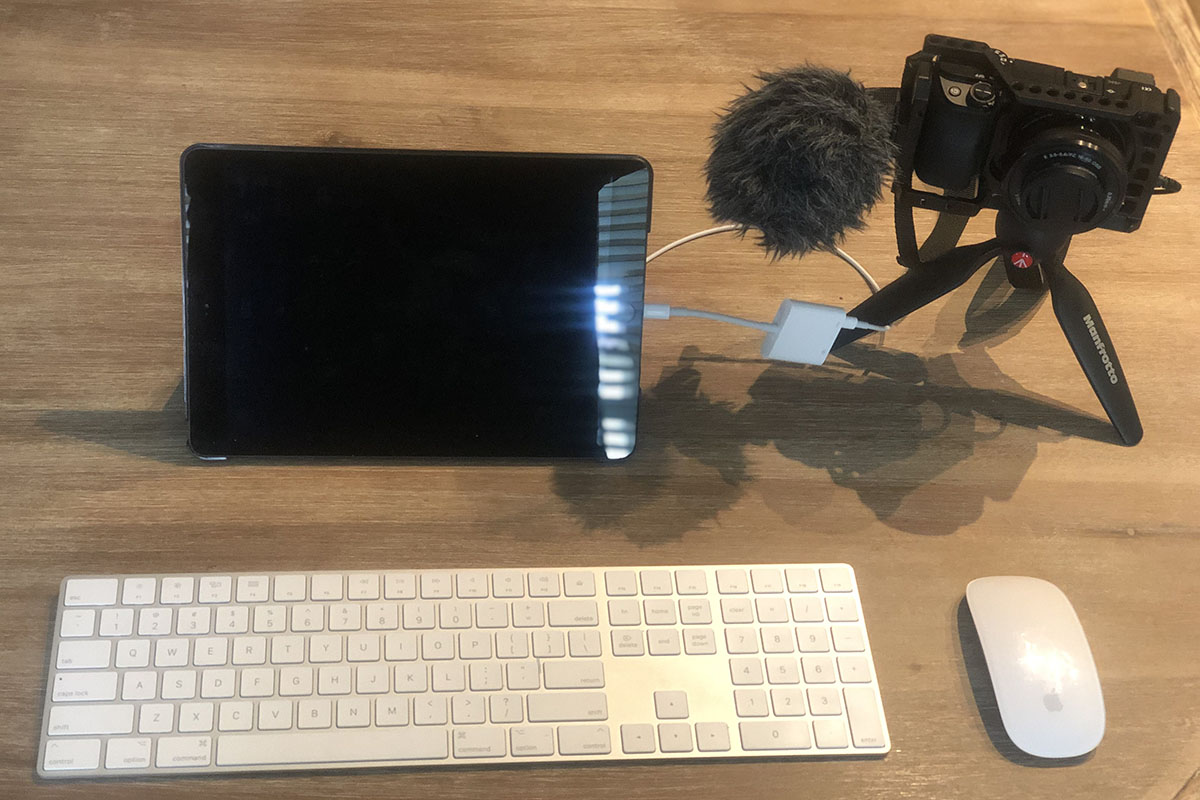 iPad 10.2 7th Generation Mobile Rig
As I get older, I have realized I have less patience for "tinkering". Basically I'm looking for convenience and minimalism. Or a better way to say it may be, I'm tired of wires, plugs, keyboards and monitors.
For the past several weeks, I've had the pleasure of spending time with my daughters, whom are visiting me for the summer. One of the things I wanted to do was capture a lot of video of them, so that I could create a video memory book for them. While traveling to bring them back to my house, I realized a couple of really important details about my current setup.
My current "computing" rig consisted of the following:



HP Envy Laptop 6 GB of Ram


Sony a6100


Canon m50


GoPro 7


Seagate Slim external


Adobe Creative Suite


For work and travel, that's a pretty good setup. Mostly I'm accessing applications via the web or through Putty, so I don't have intense developer needs. However, I am filming mostly in 4K, and the reason for that, is that I want to capture the highest quality that I have at any one moment. Anyway, I can cover filming in another post. As much as this setup is rather compact and simple, it lacks performance. Meaning, using Adobe Premiere for 4K video editing on Windows 10, really isn't happening. Scrubbing is slow, and cutting is painful. The experience of trying to edit a pretty simple video while in a hotel, was less than desirable, which caused me to abandon it.
Moving forward into this years fathers day, and I noticed a deal from Target on the 7th generation iPad 10.2 that seems almost irresistible. I was able to get the 128gb version for less than $250. Which to me is a steal. Being that I already had a wireless keyboard and mouse for the mac, all I needed was a simple case to stand it up. Thanks to Amazon those are only a click away.
Now I'm editing 4K video from my iPad using LumaFusion. It's not as feature rich as Adobe Premiere, but it gets the job done. It is however, in my opinion, better than Adobe Rush. Rush isn't bad for the iPhone, but on the iPad I felt LumaFusion was a bit better. The iPad scrubs really well, and making edits to 4K content is much better than editing on my laptop.
So for now, this is my computing environment. Simple, compact, feature rich and most important portable. Let's see how long this lasts until I can't wait to get my hands on the iPad Pro!
Comments(0)
Leave a comment